First off, let me apologize–It's been a long time since I've posted.
Hopefully you can find it in your heart to forgive me when I say that I've been busy creating new stuff…and I hope you'll like what you see!
The biggest project I've been working on is a set of costumes for an Avatar: The Last Airbender universe short film I'll be shooting next summer. The story will follow some of the adventures of Iroh and his son Lu Ten about seven years prior to the events of Avatar.
The scenes are set during the siege of Ba Sing Se, among the ranks of the grand Fire Nation Army, and the majority of the characters are soldiers, which means that I've been whipping up a lot of Fire Nation designs!
One of my favorite parts of the whole creation process is brainstorming my own takes on the costumes, weapons, etc. that would fill the world I'm creating.
And that means concept art.
Though few of my fiery designs are finished yet, I thought you might enjoy this sneak peek at the creative process and some of the fun things to come in the next few months.
Armor
Since most of my characters are serving in the Fire Nation Army, they need to be outfitted for the job, and although the show has many examples of Fire Nation uniforms, there's still plenty of latitude for creativity.
After all, alterations and inferences always have to be made when crossing the barrier between cartoon and live action. What's more, the film will feature several Fire Nation scouts (a type of soldier we never see in Avatar), and it takes place years prior to Aang's reawakening…and we know for sure that Fire Nation costumes changed a lot over the years of the long war!
Sokka scrutinizing Hahn's out-of-date Fire Nation armor.
So I whipped up loads of concepts for Iroh, Lu Ten, and the scouts, a few of which I've amassed here:
Some of these sketches drew closely on the designs from the cartoon. Others were more original, or else were influenced by historical designs from feudal cultures around the world.
One of my favorite sketches was for Lu Ten's armor:
I liked this design enough that there are very few alterations between the sketch and the finished product:
The same has been true of other pieces of Lu Ten's costume (the most finished of the armor suits so far). Below are some of my concepts for his bracers:
Although I brainstormed many designs initially (way more than made it to this sketch of my favorites), once I committed to design number 2 it was a pretty smooth transition from the paper sketch to the leather armor.
And that's why we do concept art in the first place, right?  So we won't start on a project, decide we hate it, and awkwardly try to change it partway through?
They say "measure twice, cut once," and that's especially important when a project is going to take 2.5 years like the breastplate above did.  Before even starting work on any of the Fire Nation armor I put a practice pauldron (shoulder armor) together to ensure that I liked the look and feel of leather for my soldiers and to perfect the custom combination of dyes and paints I would be using.
If you want to know more about how this pauldron was created, check out my how-to post here!
Helmets
The most crucial piece of armor to design correctly was the helmets the Fire Nation scouts would wear.  More than any other piece of armor, the helmet will tell the short film's viewers "this is a Fire Nation soldier."
In the series, we see numerous examples of different Fire Nation helmet designs:
The most recognizable of these is what I call the "spectacle" design (bottom right in the collection above).
Unfortunately, past cosplayers' attempts to translate this design directly into the real world haven't quite held up to the standard of realism that I am hoping to bring to this project.
When seen in real life this helmet design doesn't seem so practical any more.
Much as with my armor designs, instead of trying to replicate one cartoon helmet exactly, I decided to create something new. This meant, of course, more concept art!
After wading through dozens of concepts, from mummy-wrapped faces to Japanese kabuki masks and from fiery eye slits to chainmaille masks, I landed on a simple design which I believe is both instantly recognizable from the Avatar universe, practical in the real world, and aesthetically consistent with the other armor designs already in progress:
The finished Fire Nation Scout helmet from multiple angles and with the brass faceplate detached.
I could go on and on about the creative process here, but since I already have a helmet finished, I think I'll make that a post of its own!
Fire Nation Symbols
First world societies are smothered in logos, patterns, pictures, and other little designs which we often take for granted. If they suddenly disappeared we might not realize what was wrong for a while (who really pays that much attention to the logo on the inside of their shirt?) but something would feel off.
To prevent this off feeling and increase the realism of made-up worlds, makers of fantasy and science fiction movies give somebody (or a team of somebodies) the task of populating the world with these little visual knickknacks.
This is especially important for an Avatar film like the one I'm working on because the Fire Nation loves to brand things. They put their logos on flags, wall hangings in rooms, statues, city walls, and anything else they can get their hands on, as if to remind the rest of the world that everything they touch is "property of fire nation."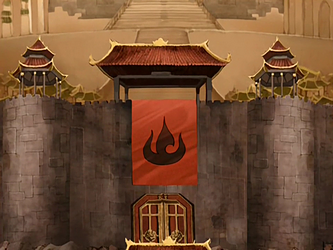 As soon as the Fire Nation captured Omashu they re-branded it.
Although there are several fire nation logos seen in the show, my creations capture smaller details than a cartoon can, so I felt I needed more intricate designs to match. I needed patterns not only for big flags and banners, but right down to embroidery on the hems of garments.
Accordingly, I've created a plethora of designs all reflecting different angles of one theme: fire. My designs have run from solar fireballs to celestial phoenixes, and from fire-breathing dragons to abstracted Chinese characters.
Here are a few that never made it past the drawing board:
Other designs that I liked better got turned into vector images on Adobe Illustrator.  That way I could scale them and otherwise manipulate them to match whatever size requirements I needed without losing any detail. Vector images are also easier to program into an embroidery machine.
A few of the top designs I've considered for inclusion in my Fire Nation costumes and props.
Not all of the designs that made it to the vector image stage wound up on costumes, but this post is a teaser, not a tell-all, so rather than stating which I used and how I used them I'll let you look for these patterns as they appear in costume posts as they come!
Summary
Concept art is one part of the creative process where I do a lot of problem-solving, and it's one of my favorite activities as a result!
I thought you'd like a peek into the inner workings of what promises to be a truly exciting and enjoyable project.
I'd love to get the same behind-the-scenes perspective on your work, so feel free to leave a comment and share some of the concept drawings that helped you develop your best costumes and props!
Have fun creating!