If you read my last post (about the Star Trek tri-dimensional chess set I made for my brother) then you know I recently picked up woodturning as a new hobby.
The chess set was my first turning project, and once it was finished I was ready to GO BIG with my next one!
At the time Christmas was fast approaching and I was inspired to use my new skills to gift my father a new addition to his blade collection. I'd made him Alaskan inspired knives and clubs in the past (click here to see them), but this project would take things to a whole new scale: An 8-foot-long handcrafted spear!
This exciting project is the largest weapon I have created to date (click here to see a previous sword build), but thanks to my magical new lathe it came together in a matter of days, probably taking less than ten total hours from start to finish.
Not only was it a surprisingly speedy project, but the creative process for this spear was different from most of my creations. I'll explain.
Why a Spear?
Many of my projects are inspired by a particular literary or film universe and are designed to match the culture of that world.
This spear was different. The desire to make a spear came to me independent of any specific cosplay theme.
In the first place, I was going crazy with my new lathe and wanted to try out new tricks like making long spindles and rings of wood.
In the second place Christmas was coming and I wanted to make a real jewel to add to my father's collection.
Finally, I had recently finished writing my article on clothing that female warriors actually wore throughout history. One of the discoveries made while researching this topic was that many woman warriors preferred to use spears and other mid-range weapons which take away the potential strength advantage of a male opponent by keeping them at arm's length.
This gave me a newfound respect for spears. I'd always kind of seen them as a foot-soldier's weapon, useful in large formations but not having the finesse of other blades. Now I see that in the right hands the spear can be mightier than the sword!
I was particularly inspired by the spear-wielding character "Balsa" from the series Moribito: Guardian of the Spirit. Although she is pure fiction, both her outfit and her choice of weapon are eminently practical for feminine combat.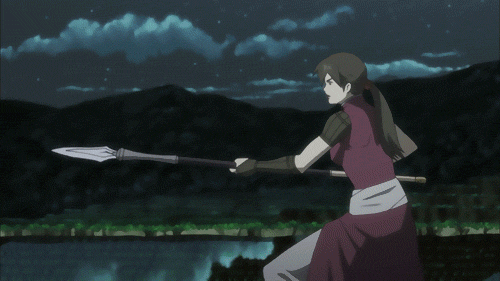 Her spear would actually be fun to create someday, but since my dad has never seen the series and making her weapon would require no special skill with a lathe I opted to simply create an original weapon designed primarily to be beautiful.
Pure Art
This was actually quite a departure from my normal creative approach.
In most of my projects I am deeply driven to combine form and function–to create things which both look amazing and are completely useable. This spear, however, was designed solely as a piece of art, and as a result it breaks many of the rules of practical spear crafting.
In the first place, I wanted to use my lathe to cover the spear in intricate designs. This makes fantastic eye candy, but isn't very realistic for combat because spears and other staff-shaped weapons typically need to glide freely through their wielder's hands.
What's more, putting grooves, ridges, and other designs on the shaft of the spear necessitates that some parts are going to be thicker than others. Aesthetically it looks best to have the narrowest part of the spear in the center so that the weapon will fit easily in the hand. This puts most of the spear's weight at the ends, however, while making the center the weakest point of the design. It's great art, but would brake quickly in combat.
In contrast, the shafts of most real spears are either perfectly cylindrical or have their thickest point in the middle of the spear's length.
Finally, in order to create the spear on my lathe (which can only turn up to 38″ spindles), and also to realistically store the spear in my luggage while flying home for Christmas I would need to craft it in two pieces which would then be screwed together in the center with a double-ended screw. This further weakened the center of the spear, rendering it completely impracticable for combat.
All in all, this spear was designed only to be ceremonial–a big change from my usual emphasis on function.
A Cultural Collage
Without the guidance of any film or book, and without the functional requirements of a spear meant for actual battle, I was free to do whatever I wanted with the design, and I shamelessly assembled it with pieces from many different countries of the world and varying historical periods.
The shaft is a gorgeous South American hardwood called Goncalo Alves. This lumber has warm, light sapwood and marbled streaks of rich, dark heartwood, providing a beautiful natural figure that polishes to a very lustrous finish. It was a joy to turn.
The long tapered spearhead comes from viking "hewing spears," which could be used both to slash and to stab enemies.
This spearhead not only has a lovely shape, but also is large enough that it looks proportional atop the extremely lengthy weapon.
A large steel spearhead like that is really heavy (1 lb, 7 oz), so it needs a hefty buttcap to counterbalance it.
My favorite buttcap design is from ancient Greece, and would have been seen on Spartan javelins. At 1 lb, 9.5 oz this pointed buttcap does more than just even out the weight of the spear; it is a formidable weapon in its own rite!
As a final decoration, I turned out a ring of wood from the Goncalo Alves around the ends of the spear and used it and a short length of chainmaille (the "Trizantine" weave) to attach a horse's tail to the top of the spear.
Long spears make great flagpoles, and ceremonial spears have sported banners for thousands of years. I chose to substitute a horse tail for a banner, though, because the spear was not attached to any particular culture. What's more, the hair would match the tail-sporting Kazakh shield already in my father's collection.
The horse tail was a wonderful final touch that added just the special something the weapon needed. It also made for some epic pictures on a windy winter day!
Wrap-Up: Christmas Tidings
This project was a lot of fun, and I enjoyed wrapping it almost as much as making it!
I have a tradition of wrapping one Christmas present every year in an off-the wall, creative way. Usually it's the simplest gift that gets the most elaborate wrapping.
The craziest wrapping job of 2017 was going to be the plushie dinosaur toy I bought my toddler nephew (I'm trying to indoctrinate him in the love of dinosaurs early), which I "wrapped"  in a hand-turned mahogany egg:
By the time I got the 8-foot spear into a box, however, I thought I might as well the extra mile and wrap it up to look like a gigantic candy cane!
The spear is in the box to the right of the tree.
While I'm on the subject of presents, I'll go ahead and share the rest of my Christmas creations with you. For my little sister who's moving into a new place I used extra wood from my Tri-dimensional chess board to create salt and pepper shakers with a matching napkin holder:
For my best friend about to have a baby boy I used leftovers from Nimrodel's sword to make a rattle:
Lastly, I created a mother-of-pearl inlaid African blackwood colonial fife (a traditional woodwind instrument) for my musical mother who kindly let me have a fife of hers many years ago:
…And as a belated Christmas gift for you, reader, take a closer look at the pictures in this article. The Water Tribe tunic modeled in the spear photos is actually a sneak peak at one of the costumes for our upcoming Avatar: The Last Airbender short film! Hope it excites you, because we're getting pretty hyped!